The biggest con in this self-proclaimed 'indie convention' is that there are very few things conventional about it. Organized by TAPAU Asia and Vans MY back in 19 and 20 March 2022, TAPAUKON is no huge business fair for giant multinational corporations, no music festival with workshops on the side. Neither is it a TED talk where the speaker is put on a pedestal for the audience to gawk at.

TAPAUKON's ethos is stripped down and focused. Instead of a convention, it's more like a crash course camp that doubles as a platform for conversations and creative expression.

Something as simple as that is actually a lot to promise. The first instance of hesitation that popped up in my head came after the schedule was released.

The way the two-day event is organized expects participants to stay throughout the course of the day, which means enduring talk after workshop after talk after workshop. It's a lot to expect at first glance. I left my university days long ago so maybe my attention span isn't as sturdy as it used to be.

The venue, BSYNC LIVE, sits amidst the hilly residential areas nestled between the borders of Petaling Jaya and Kuala Lumpur. This seclusion makes it more of a commitment. While you have a clear sight of the sprawling capital, you're sufficiently distant from the hustle and bustle. There's nowhere to run, no distractions to save you.

However, all of this hesitation was baseless in the end. In terms of curation, TAPAUKON hit it out of the ball park in creating something engaging yet eclectic, at least for me personally.

Before diving deep into the workings of TAPAUKON and figuring out what makes it tick, we should ask ourselves the titular question: What the hell is an indie con?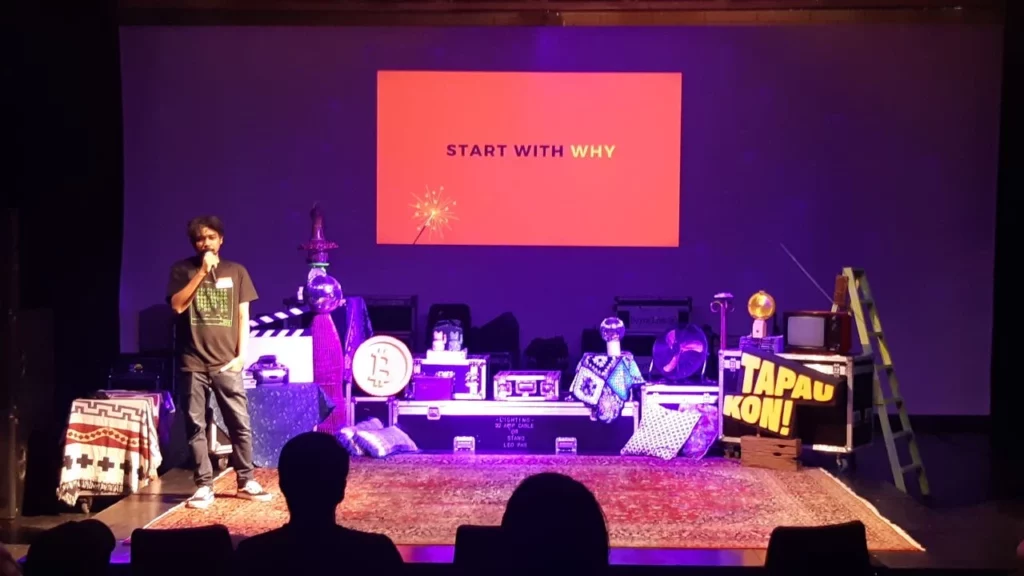 CREATING COMMUNITY/IES
The pitch at the heart of the event is the ubiquitous C-word; community. It's even right smack on the poster: a kon for indie musicians, artists, filmmakers, media and collective. Indie has become such a nebulous term that many people – speakers and participants alike – find themselves included within this category. As long as any part of their vocation expresses the DIY ethics often associated with alternative and independent scenes that can't rely on more conventional tools, e.g.the size of a mainstream audience, a major label, a billion dollar contract.

Even this definition doesn't begin to cover it, as TAPAUKON includes a wide spectrum of practitioners, industry-people, and enthusiasts, whether they have several decades of experience in the industry or are fledgling go-getters who want to find their niche. Whether they've worked with big brands (hard-pressed not to highlight TAPAUKON itself collaborates with VANS) or earn revenue through more modest means.

This particular article which leans more towards an anecdotal account rather than a general analysis won't be the place where I talk about the term "indie" or "DIY" itself. I don't think it matters that people don't know that the term (and ethos) 'DIY' was first conceptualised when Manchester punk band, Buzzcocks, made a record all on their own in the 70s, with no studio or label.

The reality is that most of what many deem 'alternative' – notwithstanding purity/poser tests – are too inseparable from the industry machine. TAPAUKON doesn't discriminate. People who treat 'indie' as a sound, as an aesthetic, as the liminal space before one goes into mainstream, as a place where one stays forever – they're all here.

Now with all of that considered, is TAPAUKON an indie convention? No more than SXSW is a convention known among young and independent upcoming musical acts as a place for indie when it is sponsored by Porsche (though probably not as grand).

The key question should not be whether it IS indie, but whether it SERVES indie.

While the talks themselves were engaging and insightful, the true cornerstone of TAPAUKON are the opportunities you have to meet your people. Walk a few steps and you'll be meeting podcasters, musicians, graphic designers, techies, event organizers, journalists. Like Mohd Jayzuan of the collective Projek Rabak said, the key is in lepak. Hanging out with people you would have never met otherwise to find your crowd.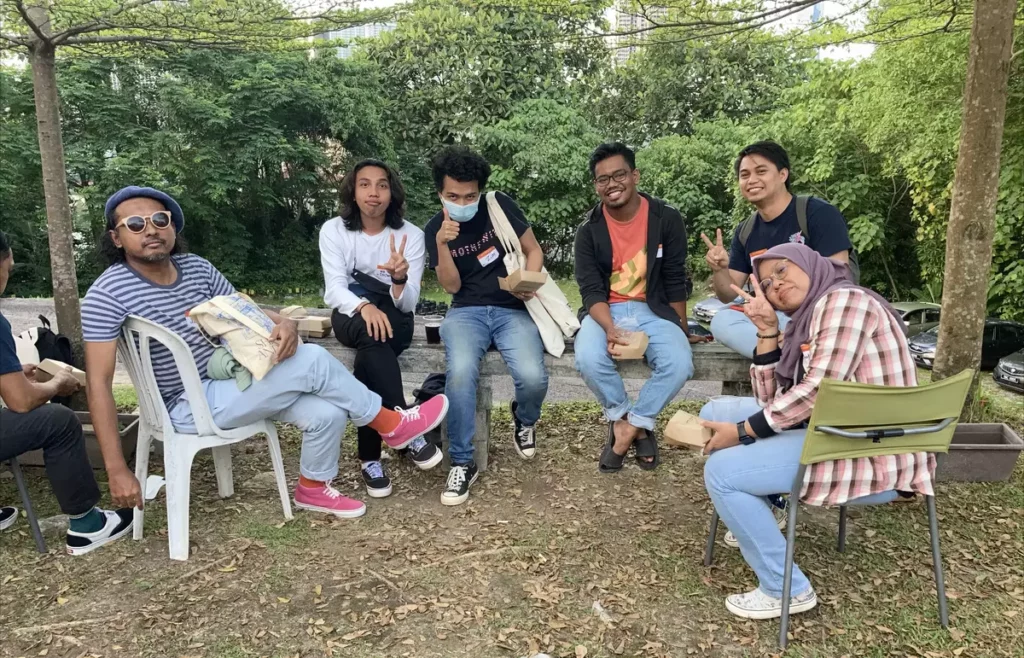 Leaism, an alternative R&B & soul artist, asked a question during the talk about a guide for newbies who are out of the loop into entering the art or indie community. A Yellow Pages of sort, a roadmap into knowing where to go and who to call. Collectives in places like Jakarta have that sort of thing, but at the end of the day there can't just be one guidebook. Different scenes have different quirks, different needs, different goals. Maybe guidebooks, plural.

Maybe we should not create a community, but communities. Adjacent enough to help each other out when solidary is needed, distant enough to still remain themselves.

NO HEROES
Because it's small, everything is always in danger of colliding with each other.

Curated and contained though it may be, TAPAUKON is no TEDtalk or Generic Business Conference. From the top, it's always been about throwing the metaphorical ball back and forth between speaker and audience. In his talk about Rock N Roll Journalism, Adly Syairy Ramly of Thinker Studios, Xfresh FM, and Tone fame throws down the gauntlet and calls out all media for being cowards (the p- in ROCK N ROLL IS NOT FOR P**** might be censored, but the "pemalas" and "penyangak" and "penjilat" it connotes are loud and clear).
I hold that statement to heart. Outlets and music 'journalists' are slowly increasing in number again with Junklist, Music Addicts, Bawah Tanah Rasmi, but criticism is always eschewed, or at least done so rarely (a personal stab at my un-prolific work ethic) that it doesn't bring impact upon anything. Adly flaunts his past of taking a stab at everyone from Joe Flizzow to Dato Shake, who would occasionally spit vitriol back at him. Occasionally receiving threats as well. But he knows he's done his research. Once you've done the research, you gotta have a backbone to be a journalist.

You know, I might be mistaken, but I don't think there are any workshops out there that really teaches you bravery. A thousand Fadzilah Kamsah, Tony Robinsons, mantras, won't do the trick. But what you can do is throw yourself in the pit and train yourself to elbow the assholes who try to bring you down.

TAPAUKON, if not anything else, is that pit. It's a great beginner's camp for walking up to someone whose self-esteem is skyscraper-high and say "I don't understand what you're talking about". Reach out to those whom you think can help you be who you wanna be. Breathe and eat rejection. Walk up to a million dollar creative solutions agency and ask "is everything entrepreneurial indie? How do you champion the weird, the shunned?".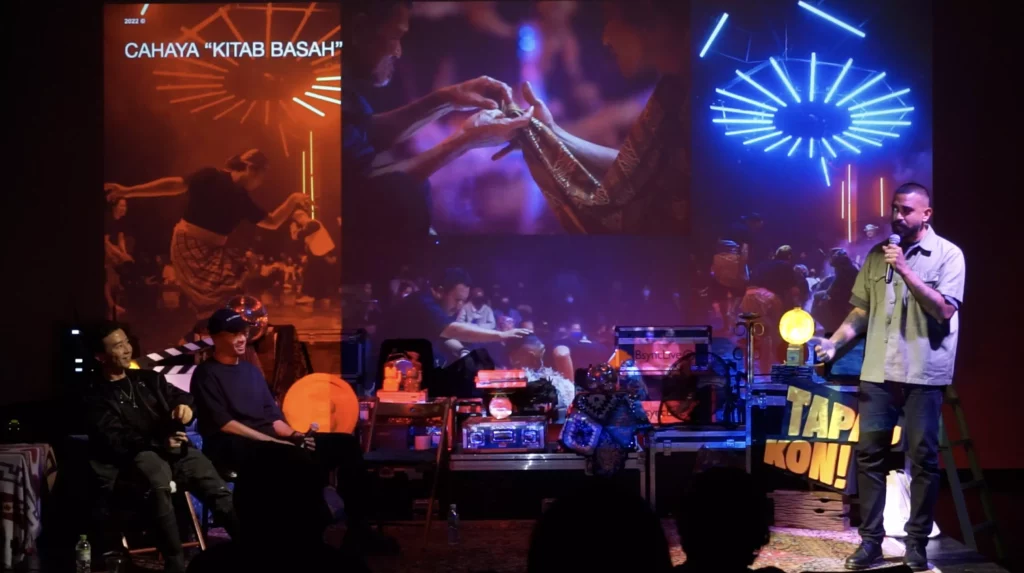 I don't think any of us probably did that as much as we could. I mean, I was more in awe of 33.3 Studio, helmed by Edwin Raj, DJ Blink and Zulamran, rather than critical. More inspired than frustrated. But I'm sure in any other place where indie peeps have louder voices, more politically bold, stuff like this would get called out. (Or maybe if they were that vocal they wouldn't need a convention).

It's not a matter of who is right or wrong. But when many heads come together and everything is too agreeable, something has to be missing.

But if this isn't the place to do it – where Q&As can escalate intense debate rather than a polite "Ask Teacher" segment – then where else? This is where you sharpen your wit and your courage. Because it's small, everything collides, yes, but it also means it's not as intimidating for you to build that spine up. There are no heroes, no heroines, just you and the people you surround yourself with.

If this was Indonesia, there would be so many disagreements. The essence of forums like these is conflict. It's from conflict that you hear ideas and form solutions.

Conflict did manage to spark a bit in TAPAUKON. The NFT peddlers were trying to sell the dream of an income source with no middlemen for artists. "NFT: Ilusi dan Potensi" was the title of the talk, but the Ilusi is swept under the rug except for little mentions at the end – a slide with a short bulletpoint of risks on it.

The scale of how unstable any crypto-based investments can be, regardless of marketplace, was only emphasized when one-by-one people started questioning how an NFT collection of selfies can go for millions while other artists still struggle to put food on the table. Or millions of dollars lost on opensea.io because free minting meant random people could misrepresent themselves as owning a particular artwork without permission from the original creators. Lack of regulation means lack of legal accountability…I'm getting ahead of myself.

Essentially, those two hours of clarification, justification, and interrogation is what a forum should be.

FIGHT FOR SPACE (AND TIME)
There's only so much you can pack in two days. The convention did manage to encompass abstract discussions, practical tools, and room for an audiovisual performance or two to plant that inspirational seed for people to do more in their career. TAPAU being a predominantly music hub meant a lot of the things leaned towards music, with a healthy side dish of video production and design. Whatever modification needs to be made, it's important that this demographic expands.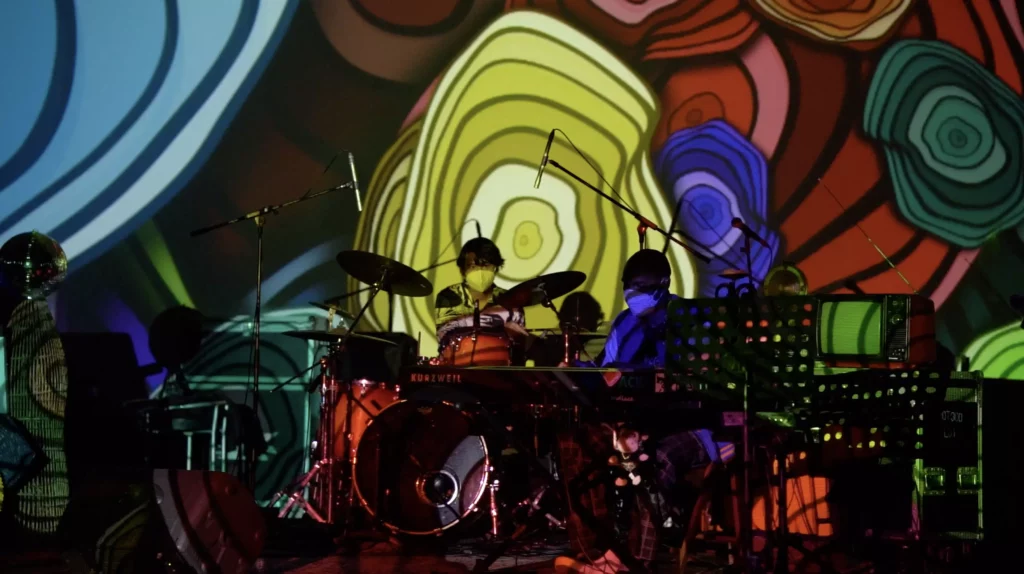 This is my internal monologue: We want MORE, but we keep it SMALL. If people who weren't present from scenes of literature, academia, theatre, film etc, come into the fold, what will that look like? Already in those two days it was hard to tally talks within a specific schedule.

Even if things remain fluid and flexible in order to keep the attention of the audience, TAPAUKON will only be able to serve the indie communities if it becomes more inclusive and diverse.

Internal monologue #2: Honestly, this shouldn't just be TAPAUKON's responsibility. A concentrated, engaging convention like this should be mushrooming across Klang Valley, if not all of Malaysia. They should be more than just inserts in festivals. They should be actual forums with real ideas, and people confronting those ideas. You see that in academia and among several liberal organizations in Malaysia. In the literature scene these conversations exist in places like Georgetown Literary Festival. But I don't know if we should keep literature strictly for literati, or film appreciation to people who already like movies. People across class lines need to be in one space.

All of these thoughts were going through my head when listening to the talk "Is the future of indie, feminine" with Dhan Illani, Junad M. Nor, Kungfu Heidi, and moderator Aida Rashid. When one of them (probably Dhan or Aida) talk about the presence of patriarchy, share their grievances, and encourage discourse, Junad stresses the fact that this is already a known reality and feminists are tired of talking about it after so many generations. The responsibility should now be passed to lawmakers, allies, and actual groundwork. Passed to the men who control the system.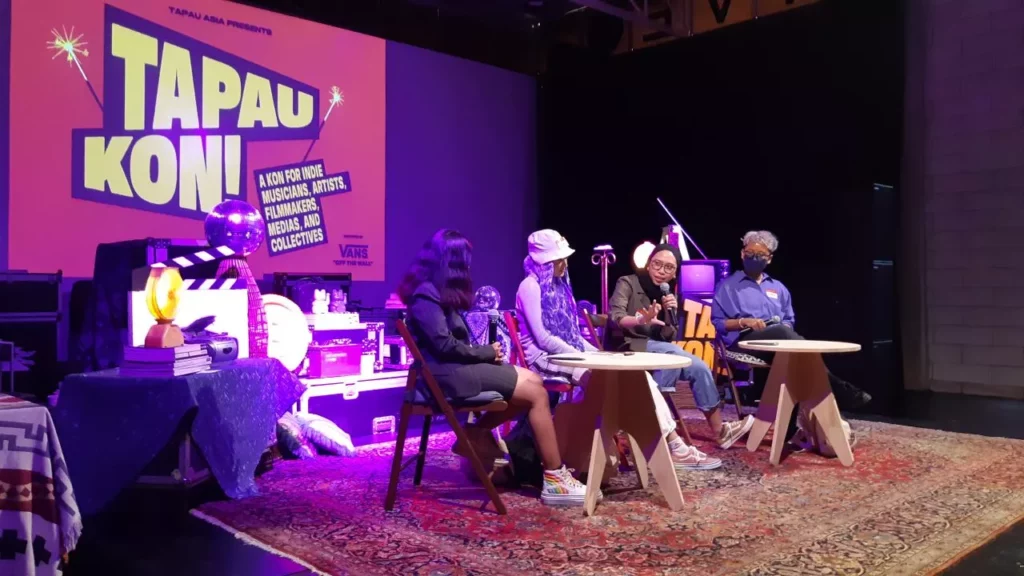 Around this time, Kungfu Heidi brings up an interesting point about engaging with real people who need our help whilst sharing her experiences with sexist men with poor grasp on socially appropriate language. While she shared her thoughts on how she grew up in Gombak and how she helped single mothers through social programs, she offered an interesting class analysis. We may be tired of having these conversations, but sometimes we get carried away and we don't realise that we've been talking within a bubble. The people who need to have these conversations are not at forums organized by NGOs unfortunately.

But since TAPAUKON's crowd is not just liberal progressives with a grasp on gender politics, it's a perfect testing ground for inclusive discourse. The conversation is difficult, but necessary. One guy asked seemingly absurd questions like "What happens if people call me a simp for supporting women?". These are annoying queries, but it's better to unravel it and talk about it honestly than pretend everything's fixed, or worse, inevitable.

Since indie is a response to a mainstream – where countercultures thrive without the need for outside approval – we should always champion differences. But how these differences are championed need to involve tension. That fight for space (and time, since Q&A sessions don't last forever) is only meaningful when the relevant people are actually in the discourse. I love my SevenCollar T-Shirt, Meet Uncle Hussein, Couple (showing my age here). But the indie of KAMI (2008) is over. It's grown way beyond that. Maybe this is a simplistic way of looking at the trajectory of the scene. Maybe it's unfair to be exhausted by Malay-men-with-a-rock-band because we're all trying to make a living. But an indie con needs to champion voices that have not yet been heard, while holding up that picket sign in front of a generation that needs to wake up. Old or new.

As long as TAPAUKON, and everyone involved in it, keeps fighting for the weird, the new, the unorthodox, the unfamiliar, the marginalised, the voiceless, the exciting, the intellectual, the emotional, then we're on the right track. As long as we push for a scene that innovates instead of simply being a physical LinkedIn hub, we're heading towards something better. However clumsily, you can't go in half-heartedly.

This first TAPAUKON is only a seed. When it grows it shouldn't be another "mainstream-indie", entrepreneurship-seminar-shaped tree. It can still be that for those looking to make a living from their art and just learn how to budget everything and hopefully not get ripped off. But all of that should be a Trojan Horse for honest expression and conversation. For art and community to evolve, people and ideas have to collide. You can't con yourself around that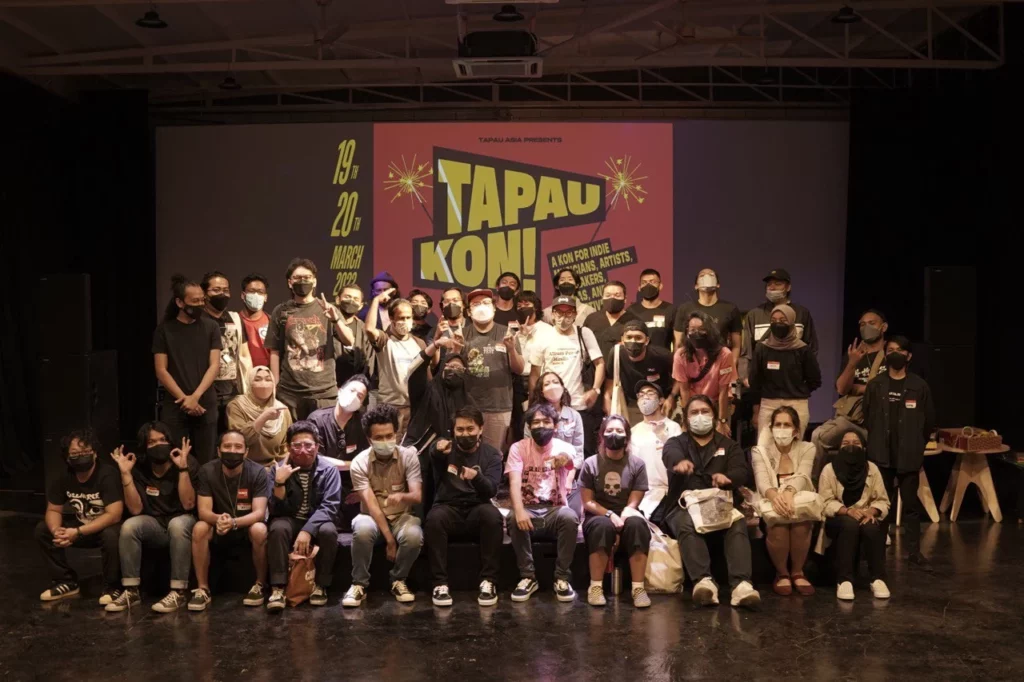 .