TAPAUKON! is  a convention that brings together musicians, artists, filmmakers, medias and collectives from the indie community over a weekend of learning, discovering and connecting with/from/for each other.
TAPAUKON! ialah sebuah konvensyen yang membawa pemuzik, artis, pembikin filem, media dan kolektif dari komuniti indie untuk bersama di hujung minggu untuk belajar, meneroka dan berhubung antara satu sama lain.
The aim of the conference is to share knowledge and build networks in order to push the Malaysian indie community forward from a growing scene to a functioning and sustainable ecosystem.
Konvensyen ini bertujuan untuk berkongsi pengetahuan dan membina jaringan agar komuniti indie Malaysia boleh maju kehadapan dari sebuah scene yang sedang berkembang kepada sebuah ekositem yang mampan.
Or maybe it is a con. To make us all believe that together as a community we are better and stronger.
Atau mungkin ia sekadar kon. Agar kita percaya yang kita lebih kuat apabila bersama sebagai sebuah komuniti.
Supported by Vans
Disokong oleh Vans
Programmes / Aktiviti :
Panel Discussions/ Perbincangan Panel, Sharing Sessions / Sesi Kongsi, Workshops/ Bengkel, Screening / Tayangan, Show / Persembahan
Featuring / Menampilkan:
Ahmad Faris, Mohd Jayzuan, Fikri Fadzil, Arwith Utarid, Ze Spooky, Adly Syairi Ramly, Faizal Noar, Riya Aris, Amir Orkes, Izealist, Edwin Raj (33.3), Razlan Saharudin (Denhouse), Dhan Illiani, Kungfu Heidi, Junad M. Nor, Aida Rashid (Mulazine), Najmi Arifin, New Wax, EEE Lab.
Programme Schedule / Jadual Aktiviti
Day 1 
(Saturday – 19th Mac 2022)
1000 – 1130 : Key Note: "CONVENTION ke KON?" –  Ahmad Faris
1130 – 1300 : Sharing Session: "DIY without COMMUNITY will DIE" – Mohd Jayzuan, Arwith Utarid, Fikri Fadzil (Panel) / Ze Spooky (Mod)

1300 – 1500 : LUNCH BREAK

1500 – 1630 : Workshop: "ROCK N ROLL IS NOT FOR P******" – Adly Syairi Ramly

1630 – 1800 : Panel Discussion: "NFT: Ilusi dan Potensi" – Faizal Noar, Riya Aris, Amir Orkes (Panel) / Izealist (Mod)
1800 – 2000 : DINNER BREAK
2000 – 2200 : Screening: "33.3 Screening and Sharing Session" – Edwin Raj
Day 2 
(Sunday – 20th Mac 2022)
1000 – 1130 : Workshop: "Funding and Marketing the Indie Way"(Denhouse) – Razlan Saharudin 
1130 – 1300 : Panel Discussion: "Future of Indie, Feminine?" (MULAZINE) – Dhan Illiani, Kungfuheidi, Junad M. Nor (Panel) – Aida Rashid (Mod)
1300 – 1500 : LUNCH BREAK

1500 – 1630 : Workshop: "Sharing Session + Collage Making Workshop" – Najmi Arifin

1630 – 1800 : Group Sharing Session: "Sesi Hadam Berjemaah" (Open Session)
1800 – 2000 : DINNER BREAK
2000 – 2200 : Show: A LIMIN + NEW WAX with visuals by EEE LAB
This purchase includes/ Pembelian ini termasuk:
1. Access to all the programmes and shows during the convention. Akses untuk semua aktiviti dan persembahan semasa konvensyen.
2. Lunch and Dinner for 2 days. Makan tengah hari dan malam untuk 2 hari.
3. TAPAUkon kit (includes Vans giveaways):
Totebag
Stickers
Lanyard
Pencils
TAPAUKON notebook
TAPAUKON T-Shirt *(to be given at the end of the convention / akan diberikan pada penghujung konvensyen)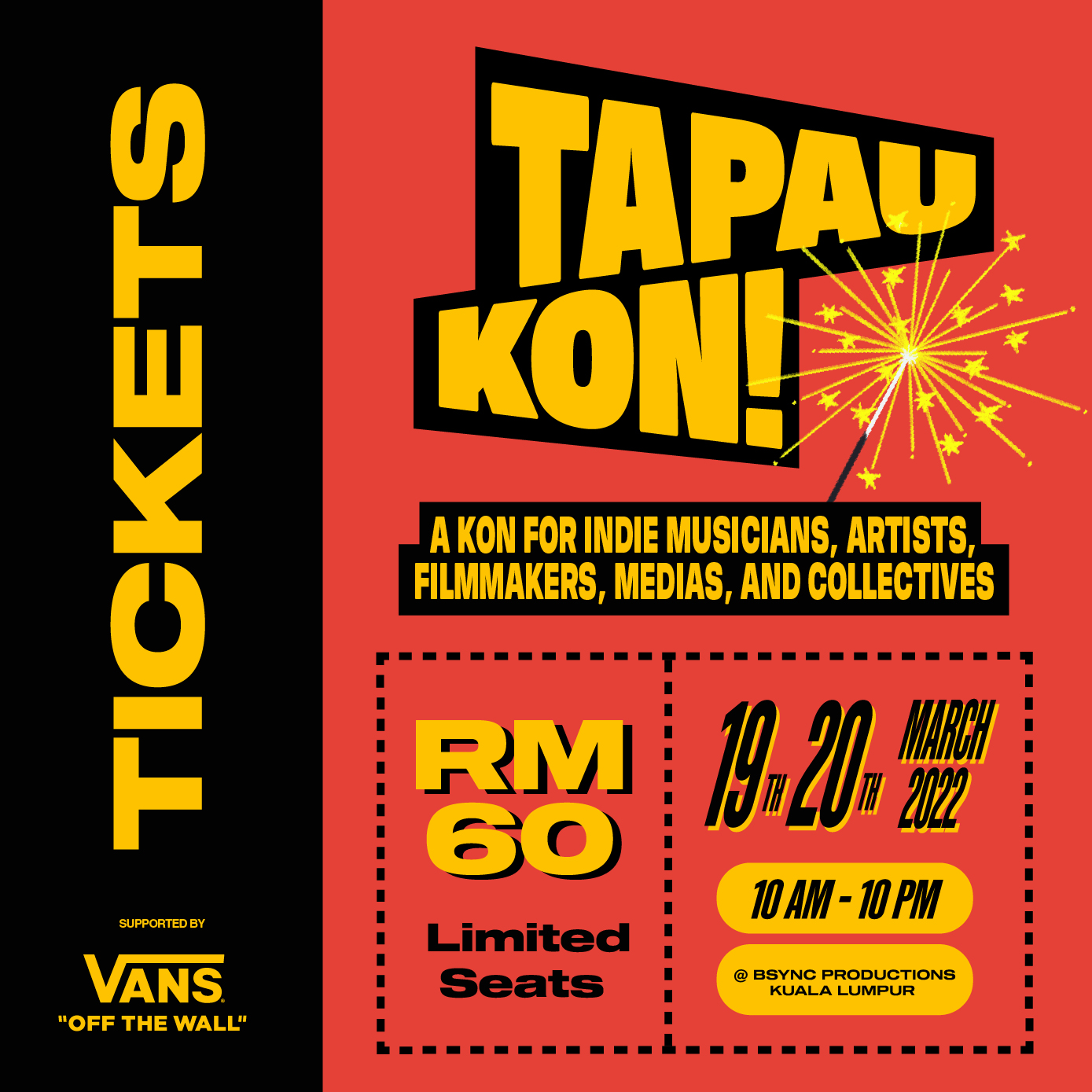 Terms and Conditions / Terma dan Syarat
All participants needs to show proof of full vaccination status via MySejahtera App.
Semua peserta perlulah membuktikan status lengkap vaksinasi melalui MySejahtera App.
Participants will be required to provide proof of negative result for COVID 19 through RTK Test (Saliva/Nasal Swab) done within 24 hours before the convention begins via whatsapp (more info will be provided later)
Peserta perlu menghantar bukti keputusan negatif untuk COVID 10 melalui Ujian RTK (Saliva/Nasal Swab) yang dibuat tidak melebihi tempoh 24 jam sebelum konvensyen bermula menerusi whatsapp (maklumat lanjut akan diberi nanti)
Participants are required to wear the mask and maintain social distancing at all times possible.
Peserta dikhendai memakai pelitup muka dan menjaga penjarakan sosial pada setiap masa yang mungkin.
You will not receive a physical ticket, instead you will receive an email 3 days before the event with instructions on how to attend the convention.
Anda tidak akan menerima tiket fizikal, sebaliknya anda akan menerima email 3 hari sebelum acara dengan langkah-langkah yang perlu diambil untuk menghadiri konvensyen.