Sorry, there was no activity found. Please try a different filter.
About Me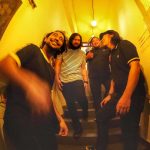 The Fatalis
Fuzzrock band hailing from Kuala Lumpur
The Fatalis was officially formed in the middle of December 2016. They are a band that carries the flag of garage rock revival, with hints of fuzzy hard rock sounds.
The band consists of:
Aiman Mufti

on drums a.k.a. the human metronome.

Shariman Shuhaime

on bass and guardian of the low-end.

Faiq Aizad

as lead-guitarist, masterminding the sweet solo licks.

Spearheaded by

Adib Azfar

on rhythm guitar and handling vocal duties. 
They've churned out their first self-titled ep, consist  of 6 tracks filled with swift, aggressive riffs and bass lines packed with grooves. Drum beats and fills that will keep your pulse and heartbeat intact, complimented with high-energy, high-intensity vocals and lyrics with socio political leanings.
In 2019, they are back with their latest work, more catchy pumping riffs, sing a long lyrics, high octane energy and soul and will have the crowd chant for more! The album is called "Ledakan Paradigma" which contain 8 tracks groovy hard rocking sound.