Sorry, there was no activity found. Please try a different filter.
About Me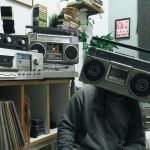 Jemput Dengar
oli
Jemput Dengar is an individual whose whole heart liking physical music form
especially cassettes. Jemput Dengar have desire to introduce & encourage the
youth as a means to fathom the value cassettes in millenial era. Additionally, being a cassette jockey is the uniqueness acquaint by Jemput Dengar in performing arts & music scene instead of vinyl, CD and digital, Jemput Dengar chose cassettes as performance matenal to the audience.