Sorry, there was no activity found. Please try a different filter.
About Me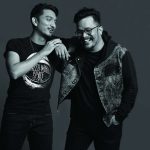 DANGERDISKO
Kuala Lumpur's premier Synthwave and Nu Disco act
DANGERDISKO is a name synonymous with Kuala Lumpur's glittering nu disco and synthwave scene. They are Kuala Lumpur's most established and prolific DJ/Producer duo. With a career that spans over a decade; Shaheed Naz and Robotron 5000 are seasoned veterans of the electronic music scene and pioneers of the synthwave and retrowave movement in South East Asia.